About this Site
Abstract Musings is a weblog started in 2004 by Robby Edwards. This is its fifth iteration, having been published on Blogger originally, then self-hosted first with Movable Type, and later with WordPress. Recently, it was moved to Posterous. This site is now a static site generated by Octopress, which is likely its final version.
About the Author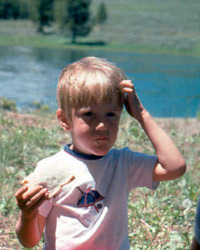 Abstract Musings is written by Robby Edwards, a web developer at Oak Ridge Associated Universities. Prior to that, he spent a little over two years with Bluegill Creative, a creative marketing firm in Knoxville, TN. And before Bluegill, he spent 12 years, mostly as a programmer, with the University of Tennessee. In his spare time, he enjoys photography, hiking, and generally, any outdoor activity. Whenever possible, he likes to travel with his wife and two daughters.
Robby can be found on Twitter, and his photos live on Flickr.